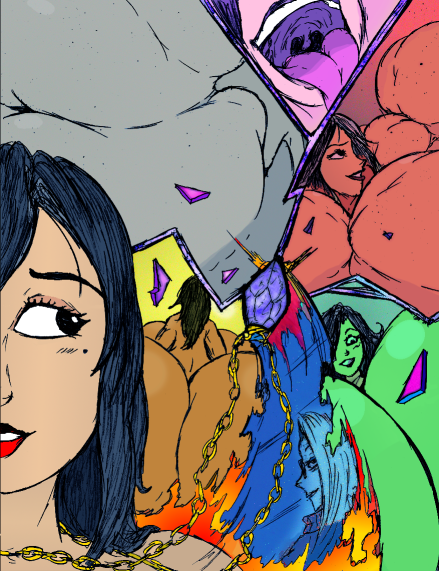 The Pendant of Prosperity
MAJOR UPDATE AUDIOBOOK VERSION BETA!
---
Hello and happy holidays! We've got something really special we'd like to give you...our very first AUDIO version of one of our CHEWS books! Well, the 'beta' version of it anyways. Think of it as a cake that still needs lots and lots of delicious frosting. There are a few lines that were never sent and recorded and a few other sentences and sound-effects that need to be tightened up, but as a proof of concept...IT TOTALLY WORKS!
As promised earlier this year, we have a fully interactive audio book featuring the luxurious and luscious voice of MamaStrassa (Be sure to giver her a follow and hear all the other wonderful projects she's done! https://twitter.com/MamaStrassa) We are also still actively awaiting art as well and hope to have more to share with you in the new (hopefully less stressful for all) year.
This audiobook can be played entirely with a track-skip button, without the need to look at any screen! So, whether you have some extra home alone time out from work, or want something to listen to rather than that one annoying family member, we hope you find it fill your ears with wonder during the upcoming winter months. We'd like to think we'll have a FINAL version of it ready alongside the FINAL version of this story on our two-year anniversary at the end of March next year.
We hope you love it! And when it comes to audio feed-back we want to HEAR from you too! So please leave any comments or audio hiccups you may find in the comments below!
It's an exciting preview of new world of entertainment just waiting to be explored, and we thank you for supporting us through the ups and downs as we create it! Here's to a wonderful 2022!

-Earthbound Books Staff
(P.S. We are looking for anyone interested in performing and filling in one or two side character lines. If you'd be interested in performing a few lines of Voice Acting, please send us an email earthboundbooks7@gmail.com)
Files
Pendant of Prosperity FULL AUDIOBOOK (BETA).rar
429 MB
Dec 20, 2021
Get The Pendant of Prosperity