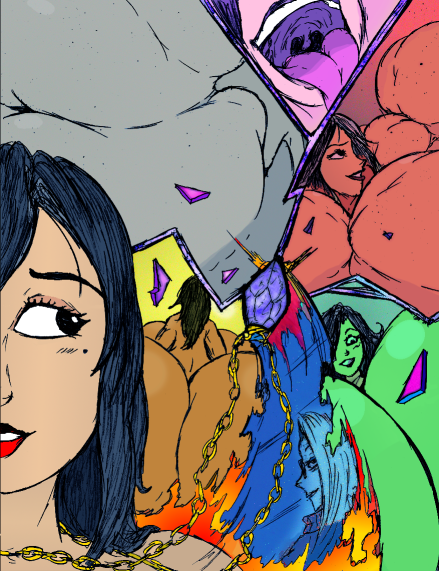 The Pendant of Prosperity
Pendant of Prosperity getting bigger and better!
---
Hello, to all of our followers we finally have some exciting news to share with you! As you may know last year we released the first in what we hope to be a new line of stories we like to call Chews Your Own Adventure Books. As you also may know, we've been planning on including over 20 pictures from Saxxon, which due to the pandemic and other various reasons had to be put on hold for a while. That time has finally come, and we're happy to share with you two pictures from Saxxon https://www.deviantart.com/saxxon based on some scenes from the story and he's assured us that he's hard at work finishing the rest. We just wanted to share these two with everyone as soon as we go them! Amazingly enough, a LOT of you out there were so excited to read more of Adipose Rex's story that you've purchased it before the art was even out and now we'd like to thank you!
Going forward, anyone who has already purchased the Pendant of Prosperity or anyone that purchases a copy by the end of this month (July 2021) will receive a notice from us in the following weeks and we will try to feature either your name/username on "Special Thanks" pages in the final version of the story. We will also TRY to send everyone out Steam keys for the Steam version of the story as well to anyone that has purchased this story before the end of the month. This final version will include, the art, multiple language options, as well as....VOICE ACTING!
We've been working behind the scenes with the lovely MamaStrassa https://twitter.com/MamaStrassa/ to voice the characters of Regina and Hannah. We think her audio expertise will add a new dimension of erotic flair both to first timers and those who've read the story a few times already. When it's done we'll even make the mp3's available so you can take the story with you on the go! Though, like the rest of the art, that's still in progress at the moment, but we wanted to share this exciting update with everyone today.
To reiterate the art and the audio files will always be available to anyone who purchases the story going forward, but if you have bought The Pendant of Prosperity already, or purchase it before the end of this month, we'll do our best to include you in a special thanks section as well as send you a steam key for the Steam version of the story when it's released as a special thanks for your patience.
The best way to get updates is to follow Earthbound Books on Itch.io, or better yet, if you own a copy already, you can expect to get an automatic email notification along with every update.
Get The Pendant of Prosperity