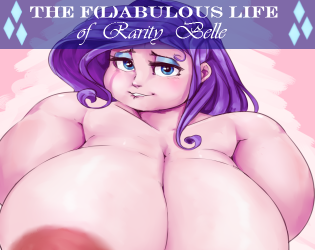 The F(l)abulous Life of Rarity Belle
FREE!
Over 20 Images
3 EXCLUSIVE Short Stories

"Fantastic news darlings! Just in time for the 10 year(!) anniversary of the hit t.v show, yours truly, Rarity Belle, has her own art and story pack! The most fashionable star (and let's just be honest with ourselves here, 'the best pone') of My Little Pony Friendship is Magic is ready to make her BIG debut!

"Featuring over 20 images of moi (a mix of both human and anthropomorphized) by the magnificent artiste Dufel (that's https://twitter.com/Dufel3) and featuring 3 EXCLUSIVE short stories from Adipose Rex, Bobo the Hobo, and Wowee. It's an absolutely amazing deal that's pay what you want to get to see this clothes horse at her most chic and unique! I must admit in quite a few of these I'm not exactly fitting into the outfits that much, and some I don't seem to be wearing much of anything at all! (Though I doubt you mind.")
"Best of all, unlike that chartreuse sweater in the back of your closet, generosity never goes out of style! Any purchases paid will be given directly to the St. Jude's Research Fund. https://www.stjude.org/donate/donate-to-st-jude.html We'll be trying to keep a monthly tally of all the donations below.

"Well? Don't keep a lady waiting darling... I do hope you get to enjoy seeing me, all of me, up close and personal soon.."
*Fantastic news darlings we raised over $160.00 for our first month! https://ibb.co/FsCZ7kw

THANK YOU! For such wonderful generosity.And to the wonderful few who donate far above and beyond the suggested price with their donations....'MUAH!'

Download
Click download now to get access to the following files:
The F(l)abulous Life Of Rarity Belle.pdf
8 MB