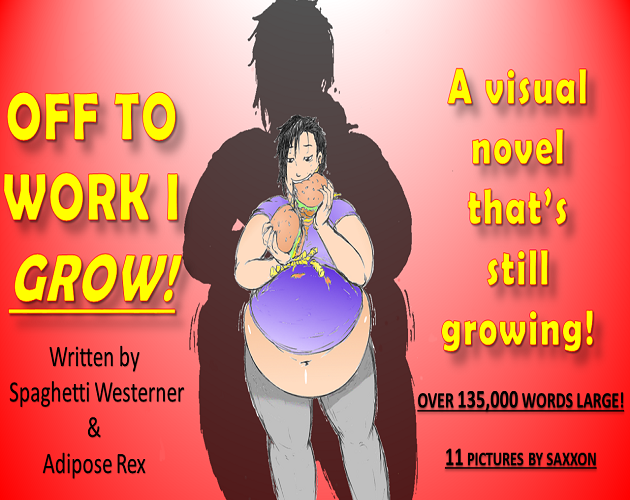 Hesper: OFF TO WORK I GROW!
A downloadable visual-novel
*Please note before purchasing! *
These stories are from the Writing.com interactive of the same name (https://www.writing.com/main/interact/item_id/1213992-Hesper) As such, while these stories are large and lengthy, they are still growing and so the stories inside are not fully completed.

---

Welcome to Hesper! Many stories take place in the small town of Hesper where a lazy guy & his friends start to put on a LOT of weight... This is but one GIANT collection of some of those adventures. "Off To Work I Grow"; focuses on the male lead Conrad as he joins the fast-food workforce. Working around so much food the pounds are guaranteed to pile on the guy, but YOU get to decide how it happens, and what else happens along the way. Will you find love with a girl also looking to gain? Or maybe you're just looking to see how BIG can one hungry boy can get? The Choices Are Yours and Yours Alone!

This collection is over 135,000 words long and features eleven exclusive colored illustrations by Saxxon as well as the black and white originals.

With ever purchase you'll receive;
A copy of the game
PDF versions of the collection for those who prefer to read/play that way.
"Lightweight" HTML file versions of the story.
A folder containing the original Saxxon sketches and the colorized versions in their full-size glory.
STATS
Word Count: Approx 135,000 words total
Illustrations: 10 from Saxxon
Purchase
In order to download this visual-novel you must purchase it at or above the minimum price of $9.99 USD. You will get access to the following files:
Hesper Interactive.rar
78 MB
Off to Work I Grow (Color) .html
12 MB
Off to work I grow BLACK AND WHITE.html
4 MB
Blackandwhitestory.pdf
3 MB
Just the pictures (Color&Orignals).rar
22 MB
Comments
Log in with itch.io to leave a comment.
Is the package going to be updated alongside the expansion of the novel on Writing.com?
That is a very relevant question, as we'd love to compile more Hesper storlines and it would be nice to keep a text file of all new additions to these particular Hesper story-lines specifically rather than keep going back and forth to Writing.com ... we're unsure about including any other authors writing in a FOR SALE product, even if did have the okay from the Hesper creator Spagetti-Westerner themself.